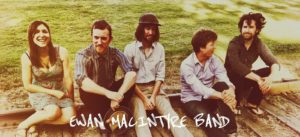 Sammen med hans band fra Canada og Skotland væver Ewan Macintyre sin egen blanding af folk pop traditioner. Udråbt som "et velkomment øjeblik i fremtiden for skotsk musik" (mumble music @ Celtic Connections 2016), med skønne live shows, smukke arangementer, rippe soloer, skyhøje harmonier og hjertefuldt lyrisk indhold er her noget at glæde sig til. De spiller på Salscenen kl. 12:00-13:10.
God og ægte roots musik lige fra hjertet. Musik om livet og om at være på vejen.
http://www.ewan-macintyre.org
www.facebook.com/ewawoowoomusic

__________________________________________________________________________________
Ewan Macintyre Band(CAN/SCO)
Album Release: Road Junkie
Digital/ Physical: DistoKid, Band Camp, Landyr, Novatone (Ireland) Ewan Macintyre Band
Release Date: April 2018 – October 2018
An international music project, pushing the boundaries of contemporary folk. Led by puppeteer, musicians and Ex- lead singer- songwriter of the award-winning Edinburgh collective "Southern Tenant Folk Union", "Road Junkie" is a genre smashing album and exciting collaboration between Quebec, Scotland and British Columbia, Canada. The new album takes inspiration from 2 years of intensive touring across Canada and Europe. Sonically compared to the likes of Jeff Buckley, Joe Cocker, Goat Rodeo Sessions and the Beach Boys, drawing on influences of Ewans work in Bluegrass, Scottish and Irish traditonal music, theatre, pop, rock and soul.
"Road Junkie" is a celebration of the music, places and people that both inspire and confuse.
Every track on the album is unique stylistically and thematically, held together as a whole by it's storytelling, being both playful and sincere. Human experience and nostolgia present themselves through varying forms, the material drawing on themes of death, loss, love and adventure. Highlights include "Sideways", "Better Ways to Fall", & two moving eulogies for friends and family:"Champagne in Heaven", for Ewan's Grandfather and "Natalie", a reflective commentary on the anarcho- punk drug fueled parenting that affected Ewan's early teenage youth.
Recorded by upcoming Montreal based producer/ engineer Patrick Steele and featuring and all-star cast of musicians from B.C. Scotland, Ontario and Quebec. Stylistically eclectic, Ewan fuels his musical inspiration through cultural exchanges.. The use of strings is a big part of the sonic landscape of the album material. Working alongside violoncellist "Karine Bouchard" and violinist "Tim S Savard, worlds of Jazz, Classical and Folk traditions collide, creating some good clean, heartfelt roots music about life and being on the road.
In 2015 Ewan recorded his first solo E.P. "You Probably Look Better Naked Anyway", a mix of genres and styles. The album reached #3 in the National Folk/ Roots charts of Canada. With his band, he has reached over 200 venues across Europe and Canada and performed at festivals including Celtic Connections and 150th Canada Day celebrations in Invermere, B.C.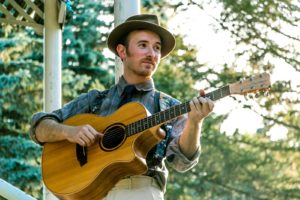 Previous lead singer with the award-winning Edinburgh collective Southern Tenant Folk Union he performed the length and breadth of the UK and Ireland and in 2011 the band won Americana Artist of the Year. He recorded 2 critically acclaimed albums with the band, receiving stellar reviews from Mojo, Q, The Guardian, Irish Times, Uncut, Irish Mail on Sunday, Hot Press as well as live TV performances on RTE's 'The Late Late Show' & 'The View'.
Reviews:
"Excellent stage presence and beautiful original songs. I think just about anyone could enjoy a live set of Ewans"
No Nap Records, B.C. 2017
"Like Robert Johnson returned from the crossroads, is a welcome moment in the future of Scottish music…"
Mumble Music @ Celtic Connections 2016
"Innovative music"… Edinburgh Guide 2015
"The poem, the movement, the music and the lighting all combine to create a poignant piece which bravely tackles a difficult subject." The Wee Review 2015.
"Stand out Scottish Voice" Fife Press 2011