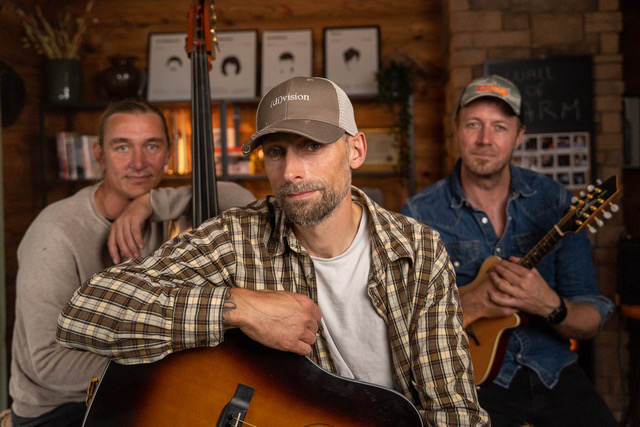 Dansk country musiker vandt musikpris i Texas – nu gæster han Rinkenæs!
Den akustiske trio Henrik Johannessen, lover at sende gæsterne direkte til Nashville, når
de 4. marts 2022 gæster Rinkenæs, som en del af Back to the Roots Festival
Henrik Johannessen er langt fra ny i gamet, når det handler om at betræde den danske
musikscene. Gennem 90'erne boede han i Hollywood, og ernærede sig primært som
heavyrock guitarist, før han ved årtusindeskiftet vendte retur til Danmark, og skabte bands
som Bad Monday, Den Danske Mafia, og senere Hillbilly Bones.
I en moden alder, har han nu fundet helt rette stig, inspireret af den moderne amerikanske
country-sound. Således påbegyndte han i 2019 solokarrieren, og siden er det gået stærkt.
Den garvede musiker har de seneste tre år, spillet mere end 70 solokoncerter i ind-og
udland. Heriblandt USA, hvor han som en del af den internationale festival Texas
Sounds, vandt prisen for 'Best Acoustical Performance of The Year'.
Koncerten på Back to the Roots festivalen, bliver en del af Henrik Johannessens
forårsturné, hvor han bl.a. vil præsentere sange fra debutalbummet 'Farm Sessions' (sep
2021), der har fået flotte ord på vejen af anmelderne. Bl.a. skrev det anerkendte musiksite
Side33:
"Jeg vil vove min gamle "Crocodile Dundee" hat på, at Henrik Johannessen på ingen måde
vil falde igennem, hvis han bliver en del af programmet på Tønder Festival 2022. Han har en
besnærende international sound, som forhåbentligt mange, også herhjemme, vil sætte pris
på. Hermed varmt anbefalet." – Mads Kornum, Side 33

Henrik Johannessen Trio består af den erfarne kontrabassist Peter Pelle, og dygtige
guitarist Kevin Monie – manden med de mange strengeinstrumenter (slide/banjo/mandolin).
Resultatet er en stærk akustisk trio, der svinger fænomenalt.
Billetter til festivalen kan købes på www.bttr.dk – bemærk fredag er der gratis adgang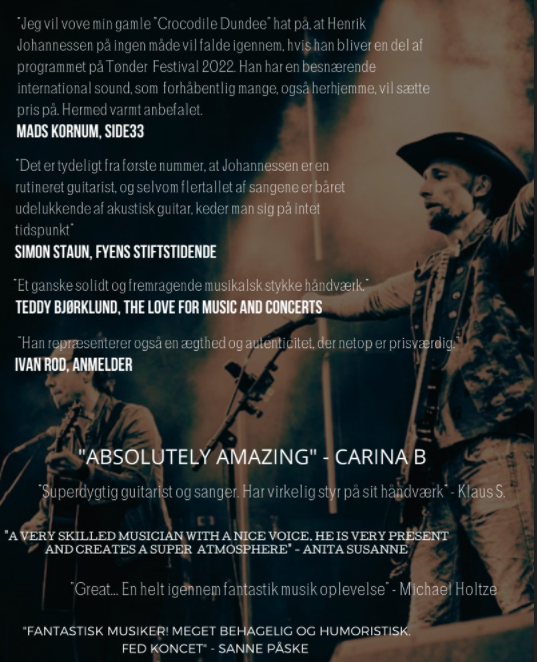 Vi glæder os til 2 fantastiske dage med Folk, Country og Roots i fokus.