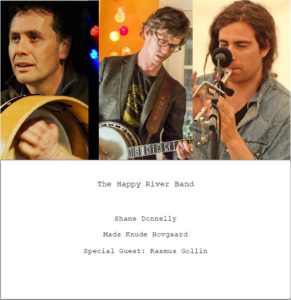 Glæd jer til denne fantastiske afslutning på cafescenen fredag aften.
THE HAPPY RIVER BAND
SHANE DONNELLY – Sang – Guitar – Bodhrán
MADS KNUDE HOVGAARD – Mandolin m.fl.
RASMUS GOLLIN – Whistles m.fl.
Glæd jer til at møde denne dynamiske trio "The Happy River Band". Trioen består
normalt af Shane, Louise Vangsgaard og Mads, og er en smeltedigel af folkemusik når
det er bedst. Med på festivalen har de dog Rasmus på whistles som afløser for
Louise.
Shane Donnelly (IRE) (guitar, sang og Bodhrán) har fået den irske folkemusik ind med
modermælken. Han er halvdelen af den populære duo "Jane og Shane", som har
turneret Danmark rundt i de sidste 15 år. Det har ført til samarbejder med bla. Niels
Hausgaard, DR Underholdningsorkester, John Sheahan (Dubliners) og mange flere.
Shane's musikalske univers spænder bredt, og bringer publikum vidt omkring
indenfor folkemusiktraditionen. Hans kærlighed til musikken fornægter sig ikke, og
han brænder altid igennem på en scene.
Mads Hovgaard (guitar, mandolin, banjo og sang) har baggrund i den amerikanske
folkemusik. Velbefærdet i americana og bluegrass, men har altid haft en kærlighed
for den irske musiktradition og har spillet i flere irske folkbands, som er vokset ud af
det levende sessionmiljø i Aarhus.
Rasmus er trods sin forholdsvist unge alder et stort talent på både whistles og
diverse strengeinstrumenter.
Sammen spiller The Happy River Band dynamisk, legende og stemningsfuldt. Aftenen
byder på såvel smukke som livlige melodier og sange fra det irske univers samt få
afstikkere til de amerikanske himmelstrøg.
www.facebook.com/thehappyriverband/
Fredagsbilletter kan købes til 295+gebyr på – www.billetten.dk/search/?searchtext=back+to+the+roots
Billet til alle 3 dage kan købes til 595+gebyr samme sted.
Det er også muligt at købe sin billet via bankoverførsel – Se mere her – www.bttr.dk/billetsalg-2018/