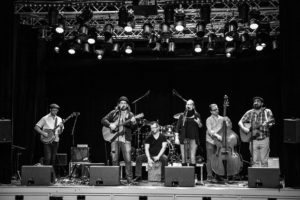 På programmet fredag d. 16. marts, kommer Heartlands på besøg. De er et, blandt en del lokale bands, der kommer på programmet i 2018. Ærlig og original folk/roots musik med hjertet på rette sted.
Heartlands er et 6 mand stort orkester, bosiddende i det meste af Sønderjylland. Orkestret spiller mange stilarter, men har i virkeligheden sin helt egen lyd. Der er tre sangskrivere, og alle 3 har deres egen stil, som i Heartlands forenes til noget, vel nærmest, udefinerbart. De er historiefortællere, spasmagere og med deres kemi på scenen er det tydeligt at se, at de ikke kun er kollegaer, men også har knyttet et særligt bånd over de seneste år.
Orkestret har efterhånden 4 år på bagen og har spillet et hav af koncerter i en stor del af landet. Her kan blandt andet nævnes; Hagges, i Tønder, i forbindelse med Tønder Festivalen; åbning af Tønder Festival 2016; Bidrag til Sønderborgs musikpris 2017, Support til Wolfstone og Oysterband o.m.a.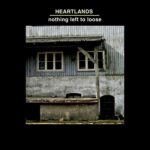 Med banjo, perkussion, kontrabas, fløjte og guitar, flyder den ene historie efter den anden, fra det virkelige liv, om kærlighed, venskaber, adskillelse og livet som helhed. To af orkestrets medlemmer er pæredanske, mens resten henholdsvis har rødder i Irland, Canada, Island og Schweiz. Det er måske den åbenlyse grund til at orkestret skriver engelske sange.
Heartlands har for nyligt udgivet E.P.'en med navnet "Nothing left to loose", som ligger tilgængeligt på alle landets musiktjenester.
Her er et af deres numre fra deres nylige EP
Find dem også på
www.youtube.com/user/HeartlandsDK