Vi kan ikke få armene ned. Vi skal høre disse 2 meget dygtige musikere på Back to the Roots Festival – Roots, Food & Love. Kristian Bugge fik 2 danish folk music awards med hjem. I kategorien Årets Traditionspris sammen med Trioen Gangspil og i kategorien Årets danske musiker. Sammen med sig tager han multimusikeren Ronni Kot Wenzell der har turneret verden rundt.
Mere om Duoen:
Et duo samarbejde mellem den klassiske slagtøjsspiller og musikerperformer RONNI KOT WENZELL og folkemusiker og spillem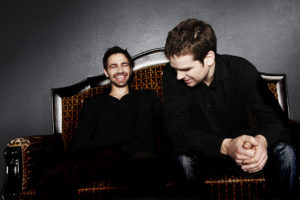 and KRISTIAN BUGGE. Duoens repertoire tager afsæt i mødet mellem folkemusik og klassisk musik. Med det spændende og vidt favnende slagtøjsinstrumentarium og den traditionelle og folkelige violin, præsenteres en energisk og samtidig underholdende sammensætning af to vigtige unge repræsentanter fra de to musikgenrer.
Ronni og Kristian mødtes i det odenseanske musikmiljø omkring byens konservatorium hvor begge har studeret. Gennem mange år har de to arbejdet sammen om forskellige projekter, bl.a. Kristians prisbelønnede debut cd (årets folkemusik debut og årets folkemusik instrumentalist ved Danish Music Awards 2006). De har mærket at de har den samme energiske indgangsvinkel til musikken og der er opstået et varmt venskab de to imellem. Med dette som grundlag er en gammel drøm nu blevet realiseret i og med at de har startet deres duo.
Musikken gives et nutidigt udtryk i duoens personlige fortolkninger. Med udgangspunkt i de to musikeres baggrunde (klassisk musik og folkemusik) opstår et bredt spænd mellem det stærkt energiske, fysisk betonede til det mere drømmende og lyrisk eventyrlige. Det er en ny og anderledes musikalsk oplevelse der præsenteres her, fjernt fra hvad man ellers møder i hverdagen, men dog så velkendt og genkendeligt.
Duoen spiller ca. 60 koncerter om året, hvor man både oplever folkemusik og klassisk musik, lige fra en Fransk/Canadisk Air (arrangeret for violin og vibrafon) til Thy-tyrkeren (suite med traditionel folkemelodi fra Thy, tyrkisk folkemelodi blandet med klassisk musik fra norske Edward Grieg og amerikanske Paul Smadbeck) og på så forskellige instrumenter som Marimba, Vibrafon, Kinesisk TAM, spansk Cajon, japansk Taigo tromme og naturligvis Violin.
http://www.folkeslag.dk/ – https://www.facebook.com/folkeslag
In English
WENZELL & BUGGE is a Danish duo collaboration between the award-winning folk violinist Kristian Bugge and the international percussionist Ronni Kot Wenzell.
The duo met at the music conservatory in Denmark where they studied and worked together on different projects. Quickly, they felt a mutual energetic approach to music, and decided to start playing together, mixing the traditional folk music with the classical percussion world. The duo quickly got very popular and has since then performed 50-60 concerts a year on international basis.
Due to the increase in their individual international careers, they now only meet up for selected tours around the world (2016: Brazil, Mexico and Scandinavia).
http://www.folkeslag.dk/ – https://www.facebook.com/folkeslag