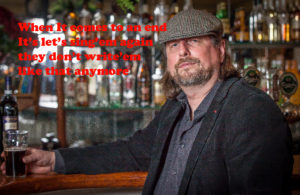 Christian Gleesborg spiller på Cafescenen fredag aften fra kl. 22:40.
Han skrev dette til os:
"Når jeg ser på den politiske udvikling i verden, på de diskussioner der foregår i medierne, og den manglende menneskelighed som gennemsyrer dem, bliver jeg rykket 40 år tilbage i tiden. Til den gang jeg lærte at spille guitar. Til Pete Seeger, Dylan, Paxton, Phil Ochs, Joni Mitchell, Janis Ian, Ralph McTell, Sebastian, Afzelius og alle de andre. Alle dem der med 3-4-5 akkorder, en god melodi, og ikke mindst mod til at forandre verden, skrev sange med budskaber om en fredelig og fælles fremtid, og om det der rører sig imellem dig og mig. Sange som vi alle kunne mindst omkvædet på, og som derfor blev flittigt sunget. Det er på tide at vi samles og synger dem igen! Der er brug for at vi samler vores stemmer til et kor der kan høres. Og det kan kun gå for langsomt. Så lad os mødes til en en They don't write them like that anymore…koncert/sing-along event. Vin Garbutt skrev en gang: When it comes to an end, it's let's sing them again. They don't write them like that anymore. Lad os mødes og synge sammen – jeg tror på at vi og verden trænger til det. 
Med venlig hilsen
Chr. Gleesborg"
Biografi:
Han spillede de første koncerter på Vognhjulet i København i 1983, men det var først da han
vendte tilbage til Aarhus og startede duoen GleesGale, at musikken tog fart. Senere var det med
Thomas Holm i duoen Harp n Strings, Martin Seeberg i Duoen Draught Baileys, og Bo
Steffensen i Duoen C'n'B og Dark Horse Countryband at landet blev kørt tyndt, for at stå på
scener af enhver slags.
Sideløbende med det, har han arbejdet som musikmedarbejder og musiklærer, hvor landevejens
erfaringer bliver givet videre til de nye talenter, og været konferencier flere steder.