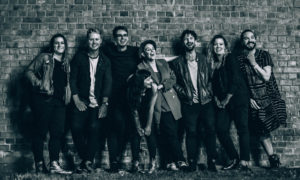 Lørdag aften på Back to the Roots festival 2018 bliver lukket af med et brag af en fest. Det 8/9 mand store orkester The Great Malarkey der har base i London kommer og holder en fest med os.
The Great Malarkey fra Øst-London kommer til Rinkenæs med nyt album i bagagen og som altid samt masser af energi og livsglæde.
For dem, der endnu ikke kender det otte mand høje London-band The Great Malarkey, kan musikken bedst beskrives som en fabelagtig blanding af syret cirkuslignende sigøjnerpunk og melankolske slagere, stærkt understøttet af sangerinden Alex Wares kraftfulde stemme og intense nærvær på scenen. Hun er et sejt energibundt med en charmerende punk-attitude, som forplanter sig overalt.
The Great Malarkey er med deres kludetæppe af musikalske udtryk på alle måder umulige at sætte i bås. De nævner selv The Pogues, Nirvana og Tom Waits som inspirationskilder.
Der bliver som udgangspunkt spillet på følgende instrumenter: violin, trommer, bas, træbasun, trompet, banjo, el-guitar, semi-akustisk guitar og måske harmonika, men man ved aldrig rigtig hvad der kan ske når de kommer på scene. Glæd jer Rinkenæs.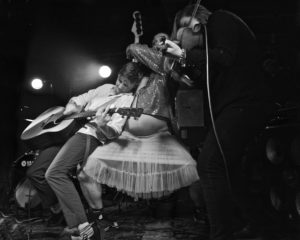 Why did the Irish artist, the Canadian surfer, the Portuguese London tour guide, the Gloucestershire gardener, two UK Guild Hall students, a Latvian paralegal and an androgynous cockney, walk into a bar?
Answer: to play some folk-punk-blues of course.
This is THE GREAT MALARKEY and 2017 is when they release their second studio album entitled 'Doghouse'.
'Doghouse' promises to deliver not only the continued raucous energy of their live shows, as showcased in their first album 'Badly stuffed animals', but the eventual bruising, vulnerability of the morning after the night before.
Historically, the band has been very much 'balls to the wall' for want of a better phrase, with influence from Tom Waits, The Pixies, The Pogues, Beirut, Nick Cave, Fanfare Ciocarlia, Manu Chao, The Dead Brothers and Toots and the Maytals, the latter of whom they were honoured to support at only their third gig.
Their energy remains consistent, but now with a maturity crafted over five years of writing, listening and extensive touring of the UK, Scandinavia and Europe, with live slots at the likes of Bestival (UK), the London Olympics, Boom Town (UK), Colours of Ostrava (CZ), Tønder Festival (DK) and mainstream airplay in both the UK and Denmark.
Ultimately, this band does not disappoint. They will bring their whole heart to every song, every show, every album and everyone who wants to listen. No need to take our word for it though, here's what some of the people who have already heard them think:
'Ten romantic refusals to stop enjoying life" – LOUDER THAN WAR ('Badly Stuffed Animals review)
"I challenge you to keep still" – PURE RAWK (Live Review)
"Like drinking some kind of potent cocktail or punch, this is music that packs a similar kick" – TASTY FANZINE
"Rarely have I experienced such an intense concert at Tonder Festival" – GAFFA DK

Find billetter til festivalen her – www.billetten.dk 
Følg med på facebook her –  www.facebook.com/backtotherootsfestivaldk
Find overnatning til festivalen her – www.benniksgaardhotel.dk/benniksgaard-anneks