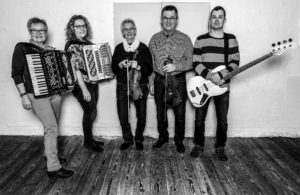 Glæd jer til en Søndag med dejlig musik og kage. De Nord – Alsiske Spillemænd står for traditionel glad og velklingende folkemusik, essensen af Back to the Roots.
De er alle garvede spillefolk, der sammen spiller til folkedans og spillemandsmesser og hver for sig i andre sammenhænge.
Gruppen består af Birthe Sandbæk og Bent Jensen på violin, Dorthe Hoffland og Bente Nissen på harmonika og Søren Wormsdorf på bas.
____________________________
Husk at købe jeres billet.
3 dages partout billet 16.-18. Marts 2018
Fredags billet – via billetten.dk
Lørdags billet – via billetten.dk
Søndags billet – via billetten.dk
Weekend Partout Billet – via billetten.dk
____________________________
Billet kan også købes via Bank overførsel
Weekend Partoutbillet 595,- + evt. bankgebyr
Fredags billet 295,- + evt. bankgebyr
Lørdags billet 395,- + evt. bankgebyr
Søndags billet 195,- + evt. bankgebyr
Husk at tilføje dit navn, tlf nr. og ønsket billet+antal på overførsel
Reg. nr. 9570
Konto nr. er 12506929
____________________________