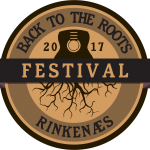 Kære publikum, optrædende, sponsorer, frivillige og alle andre,
der enten deltog i den allerførste Back to the Roots Festival eller støttede den på anden måde.
Tusinde tak for jeres deltagelse. I ydede på hver jeres måde en uvurderlig indsats, for at festivalen kunne gennemføres. Og den blev ikke bare gennemført. Den var gennemført. Der var musik og lyd i verdensklasse, lækker mad og drikke og masser af kærlighed fra gæster og frivillige.
Nu skal alt gøres op og evalueres, og efterfølgende vil vi melde ud, om der er basis for at gennemføre en ny festival næste år. Forhåbentlig er der det, og i så fald tager vi straks arbejdstøjet på, for at kunne give jer endnu en uforglemmelig oplevelse i 2018. – Back to the Roots Festival – Roots, Food & Love.