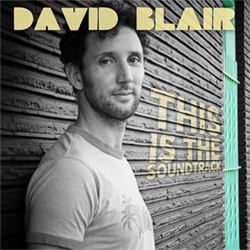 David Blair (CAN/D)
David Blair gæster "Back to the Roots Festival 2017". Han har tidligere besøgt danske scener og rejst mange steder i verden med hans musik. Når man ser ham på scenen bliver man lynhurtigt i godt humør. David sprudler af livsglæde og lysten til at spille hans sange. Når David gæster festivalen har han højest sandsynligt et par ekstra musikere med på scene. Glæd jer til en meget positiv og lækker oplevelse med David. Læs lidt mere her.
Web: www.davidblairsongs.com/songs/
Youtube: www.youtube.com/davidblairmusic
Instagram: www.instagram.com/davidblairsongs
—————————————————-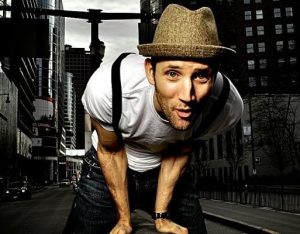 In high school David was an athletic, but socially awkward, below average student, who barely got his diploma, and hated music class. Hardly a future musician. His dream was not to be on stage singing to crowds of raving fans but to be backstage while someone famous sung songs he wrote in his dreams! Day dreaming was his profession for many years especially since stage fright was something so real it never seemed like a possibility that he would ever take the stage and sing, let alone enjoy it.
But after years building courage dealing with irate customers in the car rental industry and finally getting the nerve to record some songs in his home studio – his song 'Let You Go' got included on a compilation CD out of LA and he was invited to share his songs at the CD release party. "I was nervous as hell but excited at the same time to be on stage – and it was during that trip I got angry at myself for not pursuing music with all my might and letting fear get in the way of my dreams. So I came back home to Vancouver with a new drive to make an album no matter what".
And that he did, writing and recording 'Hard To Control' in his home studio and releasing it with success in 2007. It won Male Contemporary Album Of The Year in the Toronto Magazine's music Awards and had several songs take home honorable mentions in the Billboard and Great American Song Contest!
Early in 2009 'Things Left Unsaid' came out and had radio play across Canada with 'Hurts So Hard' – his first radio single and music video ever. 'This Is The Soundtrack' would be the next single that would receive airplay in Vancouver for a year as he toured in a figure 8 pattern from Vancouver to New York and back in his VW Jetta by himself. "That tour killed me but it was one of the best experiences of my life – from surviving a 720 spin and crashing in Wyoming in a rainstorm, to picking up a homeless guy in Utah and driving for 12 hours with him to Seattle, to meeting friends in NYC that would take care of me and who I'd end up touring with 3 years later – simply amazing".
Its been a long winding road for David as he released two more albums simultaneously the summer of 2012 – 'I Hate Liking You' a 5 song EP reuniting him with producer 'Winston' from 'Things Left Unsaid' and 'Stay In Touch' a full album again produced and recorded in his home studio. "'I Hate Liking You' – was an EP with songs mainly about failed crushes – seems I'm an expert at those!"
"With 'Stay In Touch' I wanted to give something extra to my fans that have been with me on my journey so far and to give a little message in the title to stay in touch with their hearts, friends and dreams." His lighter side of life come out on such songs as 'I'm A Slow Learner' and 'Let's Make Out' to his parody of the Old Spice Commercial 'I'm On A Horse' and his Canuck playoff anthem for Canucks fans from the game 7 Stanley Cup Final run in 2010 'We Are Canucks' – a song so popular it was played on the jumbotron of Rogers Arena throughout the playoffs that season to hundreds of thousands.
"I love making moments on stage to connect with people and I think about those moments when I'm writing songs. I'm blessed to be able to love people through my music and I intend to do so for the rest of my life – its what I was born to do – I just didn't know it till now."