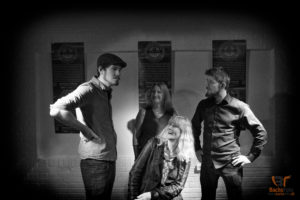 Singer & songwriter Annette O`Driscoll /Lady of the House åbner Cafescenen fredag.
Man vil også kunne finde Annette i Singer in the Round Lørdag eftermiddag.
Hvis man spørger hvilken genre hun bevæger sig i siger hun " Jeg laver musik som kommer et sted inde fra og nok også ude fra, oppe fra og måske også nedefra. Men i kan jo selv lytte…Men hvis i vil lytte så lyt højlydt!!"
For Annette gælder om at "male et billede for lytteren" og give dem noget at tænke over. Har udgivet cd´erne "Who are you" og "Så længe mit hjerte har sange"
Nils Thorlund skriver i sin cd anmeldelse i Folk & musik: "synge det kan hun og så er hun god til at strikke melodier sammen. Når man har hørt cd´en, sidder man tilbage med et smil i øjnene og føler sig sympatisk behandlet.
For 7 år siden dannede hun gruppen "Lady of the house", spændende, anderledes og altid med et smil! Med sig har hun Steffan Grarup Jensen på piano og sang, Silke Schulz på fløjte og Thomas Eoin ODriscoll på Cajun og sang.