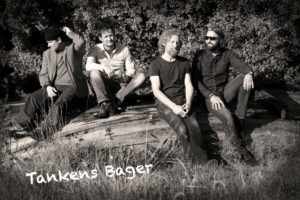 Dansks singer-songwriter med en snert af rock og pop. Tankens Bager er dansksproget musik, der med et strejf af melankoli og en tydelig reference til singer-songwriter traditionen, åbner op for et varmt tekst- og lydunivers. Bandet har inspiration, der spænder bredt fra folkemusik over rock til pop. I deres radio-debut på P4 blev bandet introduceret som "poetisk pop".
Føler sig hjemme på festivaler.
Tankens Bager har gennem årene spillet på mange festivaler, og er blevet til et fast indslag på bl.a. Aarø-kuller, Grundfør Festivalen, Strib Vinter Festival og Havne-kultur Festivallen i Odense. En del andre små og større festivaler har også været besøgt. I 2015 var bandet på bl.a. på Skagen Festival.
I marts 2017 kan de så tilføje Back to the Roots Festivalen på CV'et. De spiller på Teatersal Scenen Fredag nat d. 17. marts kl. 00:20-01:30.
Biografi.
Tankens Bager blev dannet i 2008 og består af fire erfarne musikere med base i Odense.
Forsanger, guitarist og sangskriver er Claus Dencher, som skriver størstedelen af sangene.
Jesper Vang er udover at være bassist også sangskriver.
Mikkel Schacht-Petersen er leadguitarist.
Trommerne spilles af René Møller Dehnfjeld.
Facebook – www.facebook.com/Tankens-Bager-179878572055234/