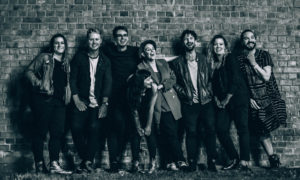 The Great Malarkey fra Øst-London kommer til Rinkenæs med nyt album i bagagen og som altid samt masser af energi og livsglæde.
For dem, der endnu ikke kender det otte mand høje London-band The Great Malarkey, kan musikken bedst beskrives som en fabelagtig blanding af syret cirkuslignende sigøjnerpunk og melankolske slagere, stærkt understøttet af sangerinden Alex Wares kraftfulde stemme og intense nærvær på scenen. Hun er et sejt energibundt med en charmerende punk-attitude, som forplanter sig overalt.
The Great Malarkey er med deres kludetæppe af musikalske udtryk på alle måder umulige at sætte i bås. De nævner selv The Pogues, Nirvana og Tom Waits som inspirationskilder.
Der bliver som udgangspunkt spillet på følgende instrumenter: violin, trommer, bas, træbasun, trompet, banjo, el-guitar, semi-akustisk guitar og måske harmonika, men man ved aldrig rigtig hvad der kan ske når de kommer på scene. Glæd jer Rinkenæs.
www.facebook.com/thegreatmalarkey
Spiller lørdag nat i Hallen