Downtown Dynt har mere end 14 år på bagen med 100vis af koncerter bag dem. De har spillet på Skagen Festival, Bobbyfestival, Tønderfestival, Nordals Musikfestival, Alsion, Sønderborg Teater, Fjordbåden Helene, mini turné på Kreta og mange små og store spillesteder. Aldrig før har Downtown Dynt spillet så mange koncerter og fyldt så mange spillesteder.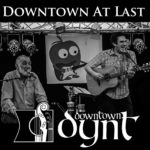 Downtown Dynt har udgivet 2 albummer "Downtown At Last" og "Downtown Again" og arbejder for tiden på det 3. album som forventes at udkomme i vinter/forår 2018. I starten 2017 kom Thomas Eoin ODriscoll med i bandet.
Bandet beskrives som
Irsk-folkemusik-i-særklasse
•Gode-irske-viser
•Singalong-songs
•Ballader
•Accapella
På repetoiret gemmer der sig blandt andet – Molly Malone, Madam Im a Darling, Whisky in the Jar, Streets of London, Mothers Daughters Wives, Fields of Athernry, Loch Lomond, Wild Rover, Dirty Old Town men også en del knap så kendte numre fra folkemusik skatten.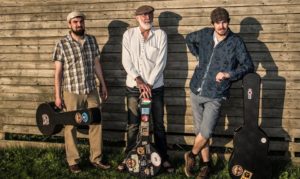 Downtown Dynt består af de 3 medlemmer, far og sønner, John O'Driscoll og Brian O'Driscoll og Thomas Eoin O'Driscoll. Når de går på scenen kan man altid forvente god smittende underholdning og deres erfaring gennem mange år på diverse scener sammen ses tydeligt. De spiller alle 3 af hjertens lyst og er gode til at få publikum med. Den irske folkemusik skinner igennem i deres repetoir, men der sniger sig også et skotsk, engelsk eller dansk nummer ind imellem. De kender historierne bag musikken godt og det ses og høres tydeligt at John er født og opvokset i Ireland og at Brian og Thomas har det irske blod i sig. Alle 3 synger de og John spiller på Bodhran og Irsk Bouzuiki/Oktave Mandoline og Brian spiller Guitar, det samme gør Thomas.
Følg med på facebook – facebook.com/DowntownDynt
Se Downtown Dynts nye youtube kanal – youtube.com/downtowndynt

Hjemmeside – www.downtowndynt.dk
Spiller Lørdag eftermiddag i Hallen