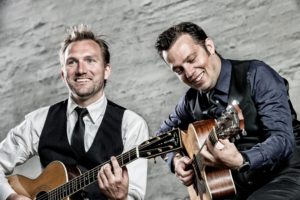 To sangstemmer – to guitarer
Den sønderjyske duo Mark & Christoffer blev dannet i Sønderborg i 1998 og har gennem årene underholdt til stort set alle typer arrangementer.
Uanset om scenen er Riddersalen i Koldinghus, DGI landsstævne, Augustenborg Slotspark, en sportshal, et teater eller et lille forsamlingshus, er opskriften den samme: to sangstemmer, to westernguitarer, gode sange, godt humør og gedigent håndværk.
Inspireret af kunstnere som Simon & Garfunkel, Lennon/McCartney og James Taylor har Mark & Christoffer fundet deres egen stil og har de senere år haft stor succes med deres egne julekoncerter, hvor duoens fortolkninger af kendte julesange krydres med sønderjyske anekdoter.
Spiller Søndag eftermiddag i Hallen.
Se mere på www.markogchristoffer.dk