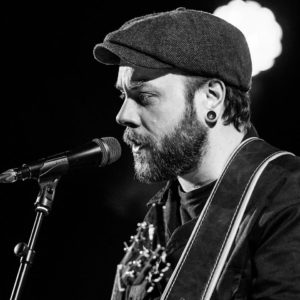 Tom Brakl har sine fødder plantet solidt i folkemusik traditionen, og er primært påvirket af den amerikanske / canadiske folkscene fra begyndelsen af 50'erne og helt op til de mere moderne sangere fra i dag.
For Tom handler det altid om sangens historie! Uanset om det er en original sang eller en anden kunstners arbejde, så formår Tom altid at fortolke dette med overbevisning og hjerte.
Tom spillede på Back to the Roots Festival i 2017 og kaldte koncerten for Tom Brakl & Friends. Det er også i den denne sammenhæng at han præsenterer sig i år. Han vil blandt andet få gæster som Perry Stenbäck på scenen. Salscenen lørdag aften kl 20:00.
Tom Brakl, has his feet planted solidly in the folk tradition, mainly influenced by the American/Canadian folk scene from the early 50's and all the way up to the more contemporary artist of the music scene today
Tom is always about the story of the song! and regardless if it is A original or the work of another artist, Tom always manages to enterpret this with conviction and heart.