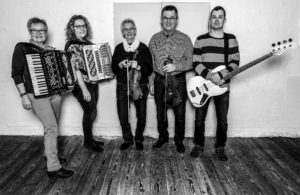 De Nord – Alsiske Spillemænd står for traditionel glad og velklingende folkemusik, essensen af Back to the Roots.
De er alle garvede spillefolk, der sammen spiller til folkedans og spillemands messer og hver for sig i andre sammenhænge.
Gruppen består af Birthe Sandbæk og Bent Jensen på violin, Dorthe Hoffland og Bente Nissen på harmonika og Søren Wormsdorf på bas.
De spiller Søndag eftermiddag i Hallen.