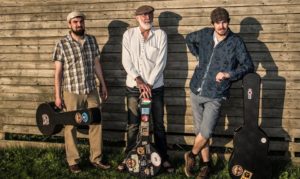 I år har de 2 festival stiftere, sagt ja til at stille op sammen med deres far på scenen til Back to the Roots 2018 festivalen. Navnet er Downtown Dynt. De spiller lørdag som også står i St. Patricks day tema og det må siges at være et godt match. Bandet spiller irske singalongs, sømandsviser, accapella sange og smukke folk ballader. Der sniger sig også et par engelske og skotske numre ind i deres program. De præsenter hvis alt går efter planen også deres 3. album på festivalen. Bandet har efterhånden spillet sammen i snart 15 år og har spillet på diverse festivaler, spillesteder og events i Danmark. Skagen Festival, i forskellige forbindelser med Tønderfestivalen, Strib Vinterfestival, Bobbyfestival, Alsion og små og store spillesteder. Der kan forventes en varm og dejlig fest når de går på scenen, hvor humor og og interne drillerier på scenen er en fast del af deres show.
Bandet består af John ODriscoll som synger og spiller på Oktav Mandolin og Bodhran. Brian ODriscoll som synger og spiller guitar og Thomas Eoin ODriscoll som synger og spiller guitar. Følg dem på facebook – facebook.com/downtowndynt eller se mere på deres youtubekanal. De har også en hjemmeside – www.downtowndynt.dk

Her ses de sammen Tom Donovan og en flok dejlige musikere på Skagen Festival 2017.
Find billetter på www.billetten.dk