Mark & Christoffer runder søndagen af
Written on December 10, 2017 By Back to the Roots Festival in Navne 2018, Nyheder 2018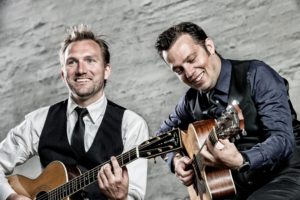 To sangstemmer – to guitarer.
Vi er meget glade for at kunne præsenterer Mark & Christoffer på festivalen. De kommer til at runde søndagen smukt af.
Den sønderjyske duo Mark & Christoffer blev dannet i Sønderborg i 1998 og har gennem årene underholdt til stort set alle typer arrangementer.
Uanset om scenen er Riddersalen i Koldinghus, DGI landsstævne, Augustenborg Slotspark, en sportshal, et teater eller et lille forsamlingshus, er opskriften den samme: to sangstemmer, to westernguitarer, gode sange, godt humør og gedigent håndværk.
Inspireret af kunstnere som Simon & Garfunkel, Lennon/McCartney og James Taylor har Mark & Christoffer fundet deres egen stil og har de senere år haft stor succes med deres egne julekoncerter, hvor duoens fortolkninger af kendte julesange krydres med sønderjyske anekdoter.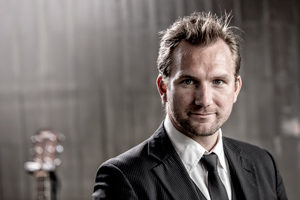 Christoffer Brodersen – (f.1980) er opvokset i Gråsten, uddannet på Det Danske Musicalakademi i Fredericia og har spillet hovedroller i adskillige musicals; Chess, Les Miserables, Miss Saigon og We Will Rock You.
I det sønderjyske har Christoffer især gjort sig bemærket som solist ved En Søndag På Als samt ved talrige koncerter i Alsion.
I perioden 2007-2013 var Christoffer medlem af vokalgruppen Basix og turnerede i Europa, Asien og USA.
Er i dag freelance sanger og skuespiller, bosiddende i København.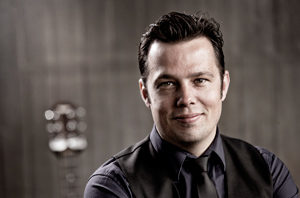 Mark Dixon – (f.1980), er opvokset i Hørup og uddannet sanger fra The Academy of Contemporary Music i London, hvor han blev kåret som "Most outstanding vocalist of the year".
Mark har sunget store solistpartier i bl.a. Sønderjyllands Symfoniorkesters koncertopførelser af Chess og Jesus Christ Superstar.
Mark er en flittig brugt solist til shows og koncerter i hele Danmark, og kan derudover også opleves i Duoen "Mark Dixon & Thomas Albrechtsen" og i showorkesteret "Superband"
Se mere på deres hjemmeside www.markogchristoffer.dk
Følg dem på Facebook – www.facebook.com/markogchristoffer
Se mere på youtube – www.youtube.com/user/dixondk
Find billetter til festivalen her – www.billetten.dk 
Følg festivalen på facebook her –  www.facebook.com/backtotherootsfestivaldk
Find overnatning til festivalen her – www.benniksgaardhotel.dk/benniksgaard-anneks