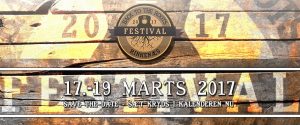 Planlægningen af en helt ny Folk og Roots festival er i gang. Navnet er "Back to the Roots Festival". Med nøgleordene Roots, Food and Love, lover festivalen at der vil være fokus på musik fra Roots og Folk genren.
"Food" Fordi man vil kunne købe mad og drikke med fokus på bæredygtighed, lokalproduktion og Back to the Roots opskrifter. "Love" fordi det er den vigtigste ingrediens til en festival. Kærlighed til musikken, fællesskabet, forskelligheden og til den gode solide mad og de lækre drikkevare. I forbindelse med mad og drikkevare programmet leder vi efter lokale producenter. Vi søger i den forbindelse lokale mad og drikkevare producenter som samarbejdspartnere.
Back to the Roots byder på både danske og internationale navne. Lige fra topprofessionelle musikere til bands og musikere fra amatør og vækst laget i genren. På festivalen ligger vi meget vægt på, at alle kan møde alle, i en hyggelig og intim atmosfære. Rammerne er "Den Gamle Skole" (Tidligere Rinkenæs efterskole) beliggende på Sejrsvej 100 i Rinkenæs. Festivalen byder på 3 scener med ca. 30 bands over 3 dage.
Der er mulighed for forskellige typer overnatning på Benniksgaard Hotel og Anex, Rinkenæshus Hotel og Camping
Festivalen "Back to the Roots Festival 2017" holdes d. 17.-19. Marts 2017
Navne på plakaten allerede – Scott Wood Band(SCO) – Virelai(DK) – Banqo(DK) – Tom Donovan(IRL) – David Blair(CAN/D) – The Raggedy Anns(DK) – Paul Eastham(UK) – Tankens Bager(DK) – Lady of the House(DK) – Ronald Mossom Band(DK) – Michael Hamilton(DK) – Southern Sound (DK) – Det Er For Vildt Trio(DK) – Rinkenæs Brass Band(DK) – Ceabhar(IRL/DK) – Zerox Band(DK) – more to come.
Da der kun bliver solgt 450 billetter bliver der sikkert rift om billetterne.
De første 100 early bird billetter bliver sat til salg d. 01.07.2016
Følg med på hjemmesiden – www.bttr.dk og på facebook – www.facebook.com/backtotherootsfestivaldk
Der er stadig enkelte pladser fri på Café Scenen til festivalen for bands. http://bttr.dk/?page_id=132