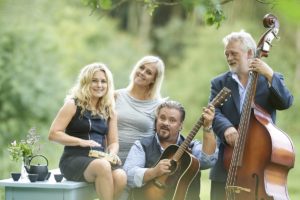 Perry Stenbäck & Dekadansorkestern spiller på Back to the Roots festivalen lørdag eftermiddag i Salen.
Udover dette afholdes der en spændende musik/guitar workshop med Perry lørdag formiddag.
Sangeren, Guitaristen og Multiinstrumentalisten Perry Stenbäck er igen nomineret til en Danish Music Award som årets instrumentalist i kategorien "Folk" der dækker over "håndspillede" musikgenrer som folkemusik, roots, country, viser m.m. Perry har fået denne prestigefyldte anerkendelse en gang før, i 2009, og været nomineret 2 gange tidligere. De senere år har Perry især profileret sig på sang og guitar som singer/songwriter med sit svensksprogede projekt "Perry Stenbäck & Dekadansorkestern" der spiller Stenbäcks egne sange og fortolker den svenske visetradition med værker af bl.a. Vreeswijk, Taube og Bellman, samt på Nyckelharpa(det svenske nationalinstrument) med orkestret "BRAGR" der spiller traditionel Svensk og Dansk folkemusik i nye arrangementer. Sideløbende med sine egne bands spiller/har han spillet med bl.a Sebastian, Allan Olsen, Erann DD, Etta Cameron, Norske Lars Martin Myhre m.fl Hver sommer holder han også en international "Guitar Camp" på Engelsholms slot i uge 29, hvor ca 45 guitarister fra flere lande samles om at forbedre sit guitarspil.
Perry kommer oprindelig fra Stockholm, men tog solistlinien på Rytmisk musikkonservatorium 1994-99, hvor man mødte sin kone, Trommeslageren Christine Dueholm og parret bor nu med sine 2 sønner i hendes barndomshjem udenfor Gadbjerg ved Jelling. mere info og pressebilleder på http://www.perrystenback.com/ eller www.bragr.com